WordPress Website Development
We specialise in designing and developing WordPress websites for all kinds of businesses large and small. Whether it's a simple landing page website with a 'Google My Business' listing and social media or a complete e-commerce store with multiple payment options, every business needs to be online.
All of our websites are built for mobile first and are fully responsive, utilising adaptive design.
This means that no matter what the device the website will look perfect.
We use and highly recommend Crazy Domains to register any domain name. As part of our Web Hosting plans we can purchase and manage a .co.uk domain name for you, providing you with certificate of ownership, alternatively you can register the domain name yourself.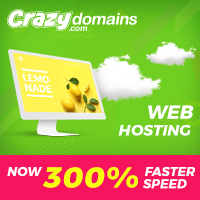 We also use Crazy Domains Premium services to manage the DNS of all our websites, increasing speed and reliability. Once we have access to DNS we point all domains to one of our servers where we provide a complete managed cloud hosting solution.
(This Crazy Domains ad is an affiliate link)
When it comes to web hosting there are so many choices and it can all sound very confusing. At Prize Pig Media we only use the best, with all our websites hosted on fast, reliable and secure servers.